March 2nd, 2019
Tripawds is a user-supported community. Thank you for your support!
I don't know for sure when Izzi was born but when I adopted her in February 2008 she was around 6 months old. The 'birthday' I chose for her was around Labor Day, that way she always had a three-day weekend to celebrate. Izzi spent the first 6 months of her life with someone else. One day, they were traveling through my hometown and staying in a hotel. Her original owner made her a boarding appointment, claiming she wasn't allowed at the hotel. She was dropped off with a bed and some food and was terrified of everything. They told me she ran and hid under a vehicle and it took forever to coax her out. She stayed in boarding for a while and her owner never showed up to retrieve her. He didn't respond to any attempts to contact him. He just vanished. Which is definitely sad but it was lucky for me because I got a great dog out of the deal.
The boarding facility was also a grooming facility where I took my miniature schnauzer, Maci, for her haircuts. One day when I arrived to pick up Maci, a little brindle and white pitbull named Missy was running around outside playing. For some reason, she captured my heart that day. I asked about her and was told a little about her history and that she needed a home. I decided to 'foster' her and see how she would fit in at my house. It took literally no time for me to decide she was mine. I changed her name to Izzi and from that day forward, I had my soulmate in dog form.
Izzi came home with a terrible case of kennel cough. I thought it would never go away. Turns out this was the start of a very long and expensive medical journey but she was worth every penny. She had a small hernia that needed to be repaired when she was spayed. From there, about a year later she needed knee surgery for a luxating patella on the left knee. She recovered nicely from this and went on to be a  wild, playful girl. A few years later, we moved to a new city. We got a small rent house with a backyard. She was able to run and play but she escaped ALL the time. She was an expert digger and she loved to chase cars. My wonderful neighbor knew this so if he saw her out on the lam, he'd lure her back to the house with his car :).
Moving to a new city was pretty tough. I didn't have any family here and only a couple friends. I could have never made it without my dogs, especially Izzi. Maci is the the tiny dog version of me: uptight, anxious, and hates most people. I have never been good at trying new things or going anywhere alone but with Izzi, I never had to worry. She loved to go everywhere with me. If I wanted to try a new food truck, go eat on a patio, or drive around and look at Christmas lights she would happily accompany me and easily introduce me to new people. She was such a social butterfly and an amazing ambassador for bully breeds. Everywhere we went, she changed hearts and minds. People who were previously terrified of pitbull-type dogs fell in love. I received so many 'compliments' from shocked people who couldn't believe how sweet she was. I will always remember one specific evening at the vet, we were seated next to a couple who were waiting for their dog to be released. The woman was genuinely frightened of Izzi just because of the way she looked. But the man was in love. He spent the entire evening petting her and talking with her. By the end of that night, the woman was sitting in the floor rubbing Izzi's belly. Several other times when we were out eating or shopping, children would ask to pet her and their parents would be afraid. I would always encourage them to come say hello and they were always so delighted with her kisses. It's almost like she knew when to put on an extra sweet show. When people were unsure of her, she would demand their attention and would not take no for an answer.
Eventually we moved out of our rent house and into an apartment. It was tough finding an apartment that allowed big dogs and pretty much all of them disallow 'bully breeds' so I fibbed my way through several years of apartment life. I am so fortunate to have never gotten in trouble. Apartment life was quite an adjustment for all of us. We had to go outside on a leash at all times and there were no breaks – rain, shine, ice, snow, flu, or otherwise – we had to go for walks every single day. It was hard at first, but it became the norm. Every time I touched the leash, a riot ensued. She loved her walks. One night  after a few months of living in my new place, I went to the store with a friend to buy a new blow dryer. Upon leaving, we encountered a box of free pitbull puppies out front. There were two left. One was brown and kind of fluffy, must have been some kind of mix. The other was a teeny, tiny black puppy who was laying in the bottom of the box, barely even moving. It was late December and freezing cold. These puppies had no business being outside. After chatting with the owner, we learned they had a large litter on accident. Mom and puppies had been living in a closet at their house. They were trying to do the right thing by finding the puppies new homes which I can respect but it scared me to death to think of the type of people who could walk away with those puppies. My friend and I decided to take the last two puppies home and get them vetted and spayed before finding them suitable new homes. This is where we introduce you to Dori. Dori is the little black puppy who came home with me that day. She was covered in a rash and her paw pads were raw from spending so much time in her own urine. She had a minor heart murmur but a feisty spirit. She loved to play and she brought out the wildest side of Izzi. Those two spent all their time rough housing and destroying toys. Dori was spayed, and microchipped, and all the right things but after months of networking and trying to find a new home, I finally decided she was meant to stay with me. So now I lived in an apartment with three dogs and yes I might be a little insane.
Eventually, Izzi started having knee problems again. We tried conservative treatments including rest and anti-inflammatory meds and then Adequan injections but she just kept getting worse. I remember one day, she was hurting so bad, she was trying to stand only on her front legs. It was like nothing I had ever seen. I decided that she needed knee surgery immediately, there was no more trying this and that. She needed serious help. Izzi went on to have cruciate repair surgery on both hind legs. She had the surgeries six weeks apart. I was terrified. I didn't know how she would handle everything and I didn't know how I would pay for it but it happened and she was amazing. The first few days after each surgery were quite rough. I know she was hurting but she always pushed through. She did great with the water treadmill and cold laser therapy and she powered through every walk with a smile on her face. Those surgeries were life changing. She was able to run and play again. She was herself again and I couldn't have been happier.
Shortly after all this, I found a stray dog roaming the apartment complex eating trash. I scooped her up and took her to our local shelter. It was the first time I had ever been there and I was extremely upset about leaving this poor dog alone in a cold cage in this loud, scary place. I was crying so much the front desk thought I must be lying about her being a stray. I explained I was just so worried about her and I felt awful leaving her there. They went on to explain their adoption and foster programs to me and assured me they would take the best care of her. That was the day I decided I need to get involved and start fostering animals. Although I had 'foster failed' with Izzi and Dori I knew I was capable of helping more dogs and this was my calling to do so. The little boxer I turned in went on to be adopted and shortly after I picked up my first foster dog, a little black chi-weenie named Lulu. Izzi and Lulu made fast friends. Every foster I brought home after that was Izzi's new best friend. She was my foster nanny. She helped all the new kids settle in and showed them the ropes. I mostly fostered chihuahuas since I lived in an apartment and didn't have much room. They always loved snuggling with Izzi because she was plump and warm. Eventually I brought home a tiny white and brown chi who was seized from a hoarding case. He was the most traumatized dog I had ever met. I named him Timon (like Timon & Pumba) because he reminded me of a meerkat. Timon took a very long time to come around but eventually I decided he was ready for adoption. He was adopted at his second adoption fair but returned two weeks later for biting. It turns out, he didn't want any other family.. he only wanted me. Luckily the shelter let me take him back and adopt him myself. So in case you lost count, now I have four dogs.
After a few years of apartment living, I was finally able to buy a house. No more worries about sneaking around with my 'illegal' bullies in an apartment. No more leashed walks. My girls and tiny boy finally had their own enormous backyard to frolic in. About a year after living in our new home, Izzi started limping quite a bit. The vet thought she could be having complications from her knee surgeries or it could be arthritis. We weren't completely sure but started her on more anti-inflammatory meds to see if we could ease her pain. Unfortunately, the limp only got worse and eventually a small lump appeared on her right hind leg near her 'ankle' joint. As soon as I saw that lump I knew it was bad. I just knew it, I can't explain why. I knew nothing about cancer, I knew nothing about bone cancer, I knew nothing at all except that I had a gut feeling that something was very wrong. We went to the vet on her 9th birthday. I remember the vet sounding concerned and saying we really needed to get an x-ray of the leg. Then I remember the vet sounding even more concerned as he was showing me the x-rays and explaining that he suspected she had cancer.  That 'tiny lump' had invaded her bone and was eating away at it. He went through the potential worst-case and best-case scenarios. Best case was obviously a benign tumor. Worst case was she could potentially only have 3-6 months to live. We discussed options and landed on amputation. If we didn't amputate, her life would be shortened and extremely painful. Her risk of breaking that leg was very high. Odds were that amputation would extend her life and improve her quality of life. I was worried and nervous but he assured me dogs do very well on 3 legs. It took me very little time to decide to go forward with amputation. I knew how resilient Izzi was and I knew she was up for it. I also knew if I didn't give her a chance to fight this, I would regret it. I don't mean to say this was an 'easy' decision for me but it was something I knew I had to do. So 9/5/2016 was the official start of Izzi's 900 day battle with cancer.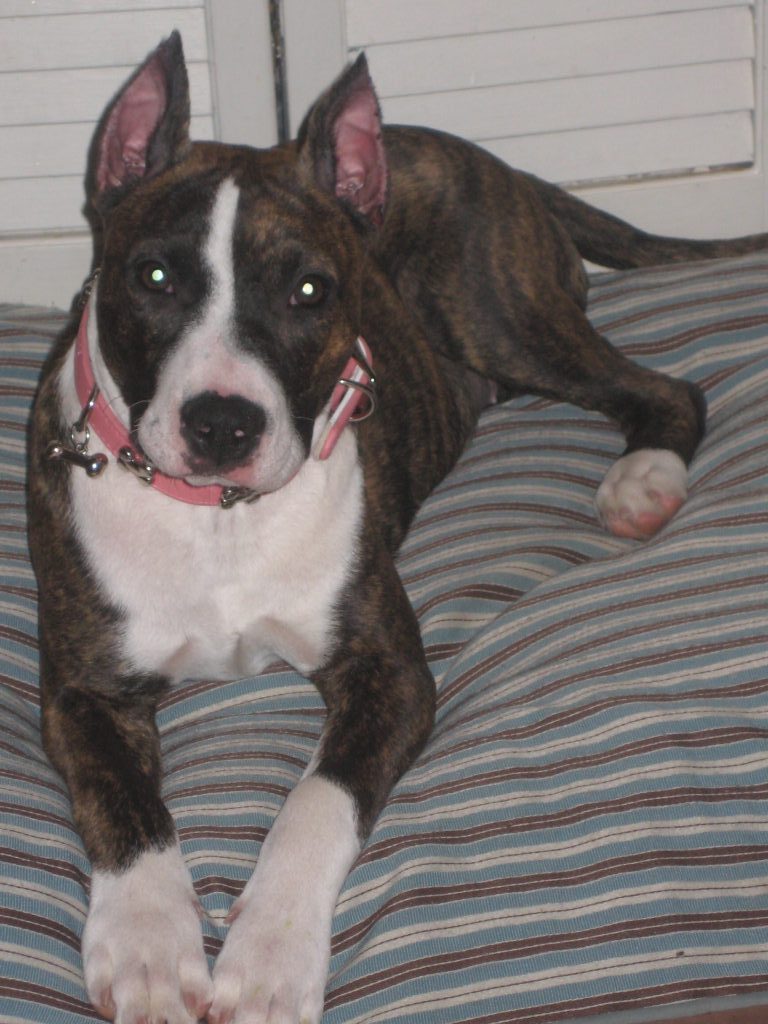 Here's Izzi circa 2009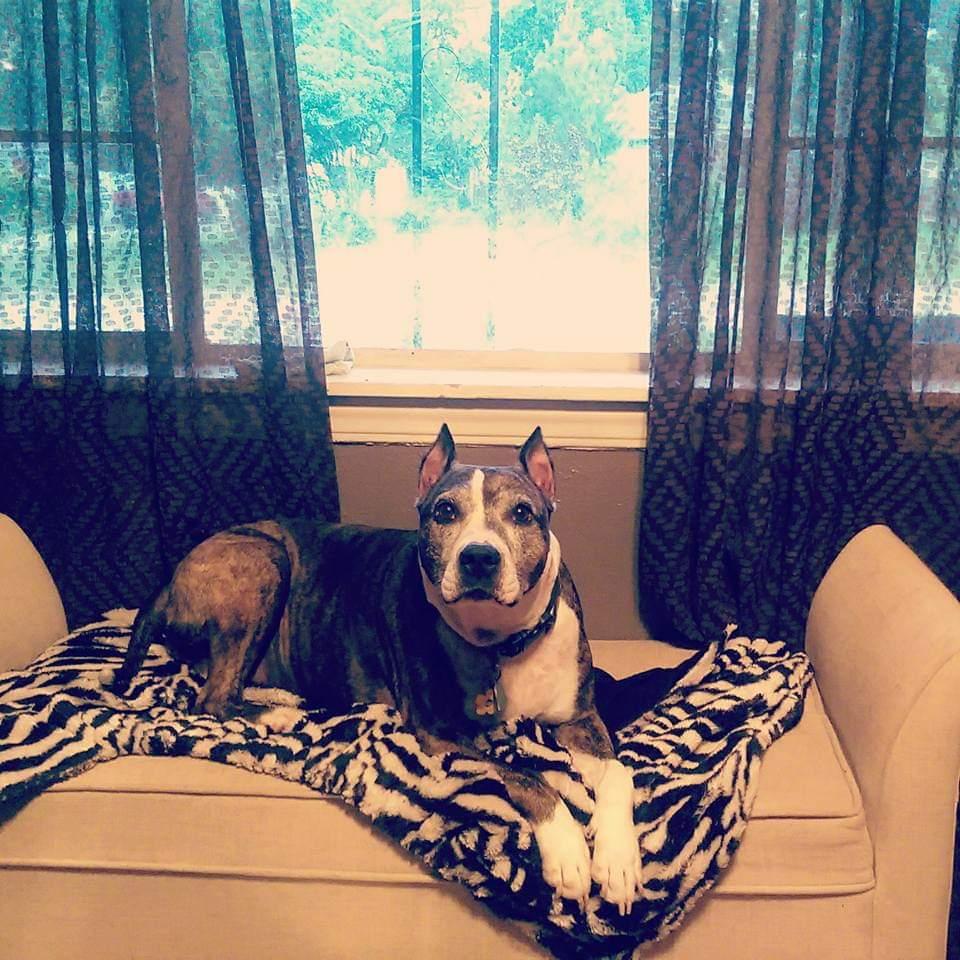 And Izzi in July 2016
test Filed under
Uncategorized
|
Comment (1)