March 12th, 2019
Tripawds is a user-supported community. Thank you for your support!
Adjusting to life on three legs was a challenge for Izzi and for me. I wasn't sure what to expect, what was normal, or what I should be concerned about.  I wasn't sure how to care for her but I really wanted to do 'all the right things.' I read, and read, and read and my head was spinning with an overload of information.  There are so many theories and ideas of what works and what doesn't work and it seems every single dog's experience with cancer is different. It's a little overwhelming to say the least.
I decided not to put her through chemotherapy. I have been told the process is much different for dogs than it is for humans but the thought of it still bothered me very much. My next step was to visit a homeopathic vet to see what sort of natural treatment options we might have. Her first visit was on 10/15 and I really liked the vet. The office was small and cozy and she had a big soft bed in the floor for the patient to lay on during the visit. Izzi loved big soft beds. This initial visit was more of a consultation. We discussed her diagnosis and prognosis. We discussed diets and she highly recommended feeding raw but I wasn't sure I could make that work. In case you missed it, I have a lot of dogs. I couldn't financially manage much more than what I was already doing. She also recommended a ton of vitamins and supplements but again, I couldn't make it work. Not to mention, Izzi hates taking pills. We discussed some at-home activities with an exercise ball to help Izzi improve her balance and strengthen her remaining back leg. Then we scheduled a second visit for the next week. When we returned, Izzi had a chiropractic adjustment, acupuncture, and a massage with aromatherapy. Izzi had never, ever put up any sort of argument at the vet before. She was always the most laid-back, easy-going, happy dog. She didn't care if she was getting poked, or prodded, or pushed, or pulled as long as she was getting attention she was happy. Sometimes she would let out a fart if she wanted to retaliate but she was never rude in any other way. But this was different. She actually tried to bite during the adjustment and she was very antsy with all the acupuncture needles in her back. It was clear she was not happy at all. This experience really opened my eyes. I realized that all of my decisions from here on out had to revolve around whether or not Izzi was happy. I had already put her through a major surgery, a difficult recovery, and asked her to learn how to hop around without an entire leg. I was not going to do anything else that she didn't want to do. Yes, sometimes there were necessary things that she didn't *love* doing but they were for the greater good. But overall, my new philosophy was to just do whatever Izzi wants to do. Whatever amount of time she had left needed to be the best time of her life.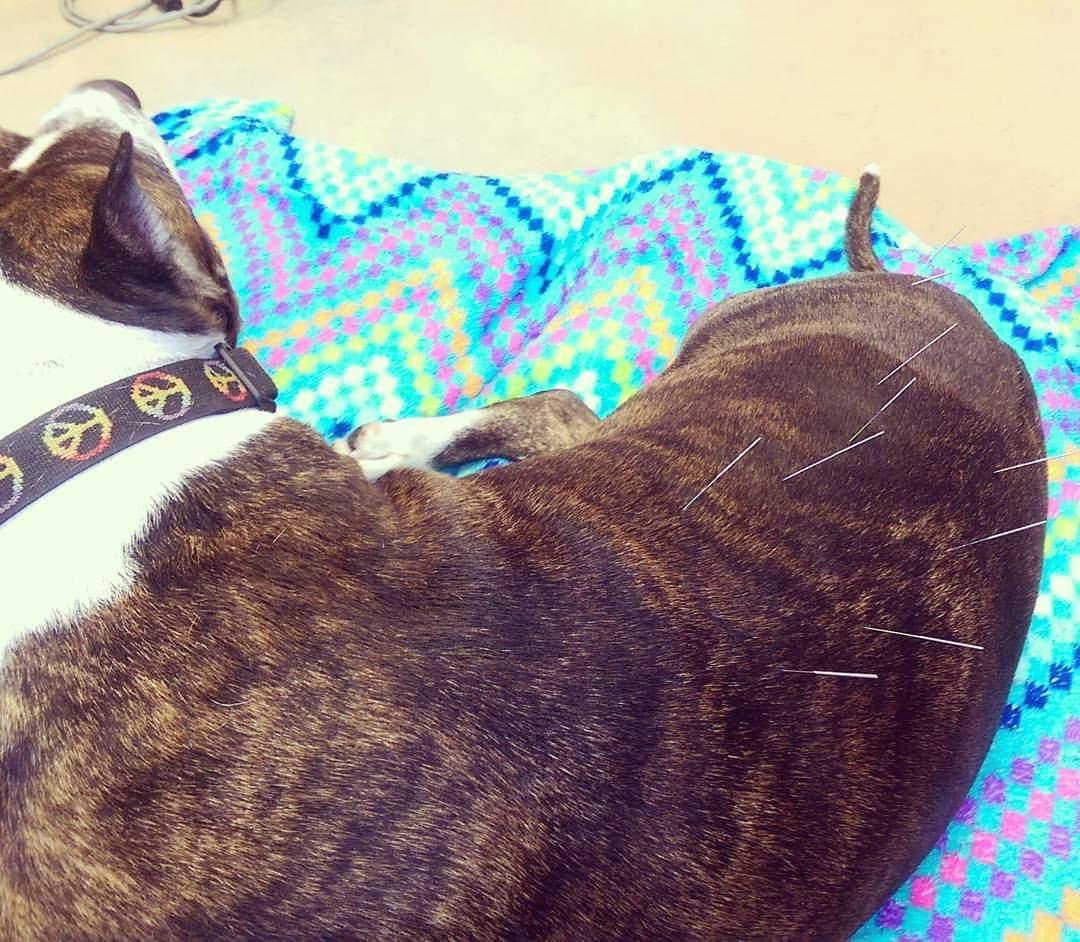 Since I had no idea how much time she would actually have, I decided to contact a pet photographer to take some photos of Izzi so I could have them as keepsakes. We met out at a park on a Saturday and it was easily the windiest day of the year. But we made it work and got some really nice photos. I didn't realize how far of a walk it would be from the car to the trees and then back to the car. Poor Izzi was really struggling by the time we got finished with the photo shoot. I felt like a bit of a dummy for not planning that a little better.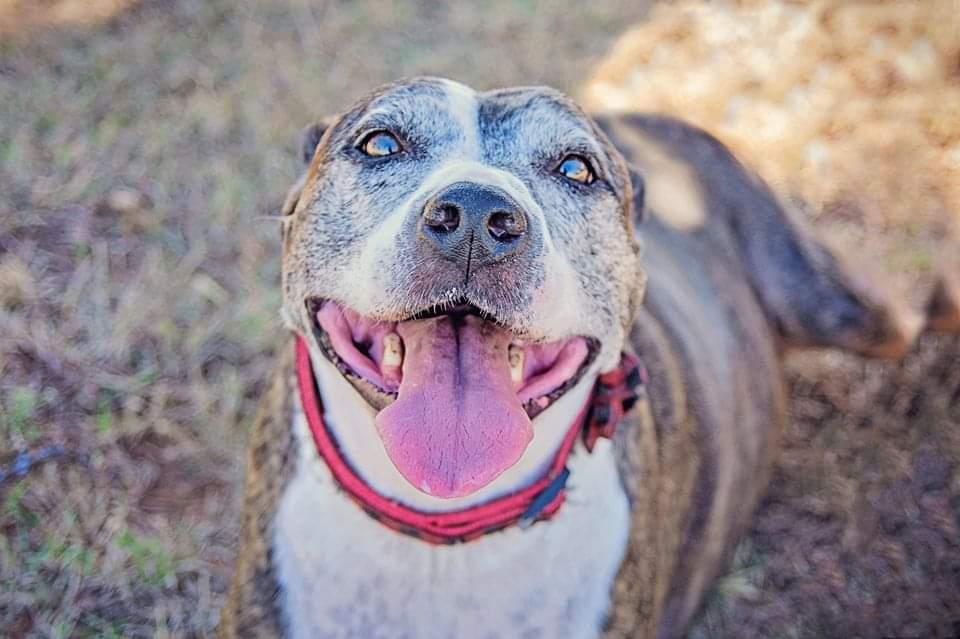 Recovery from this point over the next couple of months seemed to plateau. She was tired and she was weak. She scooted around the house a lot as an alternative to walking. It was easier for her and that was okay. I spread long rugs out across the entire house so she could hop around on the wood floors if she wanted but she preferred to scoot most of the time. She reserved her hopping strength for trips outside to frolic in the grass or splash in her pool. She took pain medicine for quite a while and she took Dasuquin for her joints. I got a sling to wrap around her waist with long handles so I could easily assist her with walking any time she needed help.  We had an oddly warm October so she got to splash in her pool quite a bit which was awesome. We started going for short walks, just to the end of the street and back and she would be flat out exhausted afterwards. I started to worry she was never going to be strong enough to do much more. I invested in a cart with wheels because I thought that would help ease some of her frustrations from the loss of mobility. With wheels she would be able to run and play more. Boy was I wrong. She was a very independent and somewhat stubborn girl. She did not want anything to do with that dumb cart.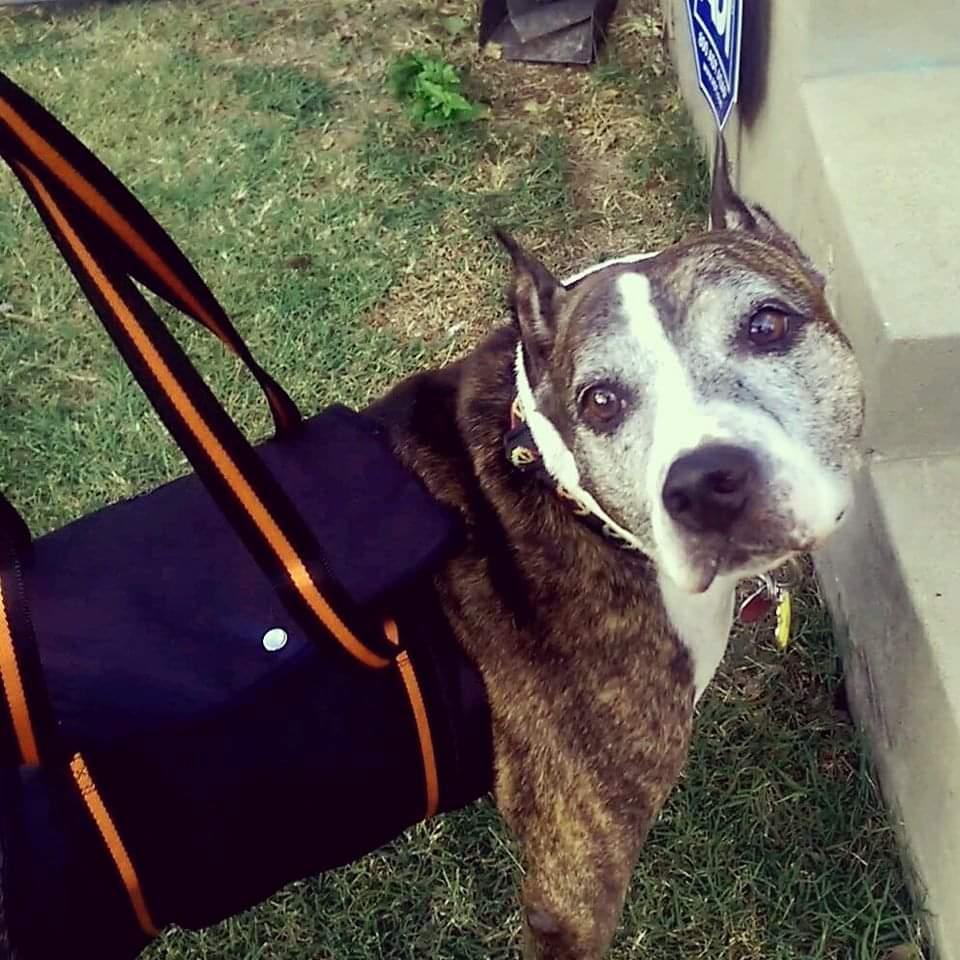 By mid-December, she was perking up. She was able to go on longer walks and she went without her lifting harness about halfway. She would 'run' all the way to the park but when it was time to go home, she wasn't as enthusiastic.  I would have to put the harness on and support her on the way home. Christmas time came and we took our annual Christmas photos with the tree. Then we got some snow just after the new year. Izzi always loved snow but we don't get much in OK so it was a real treat when it happened. When we woke up that morning and saw the snow she did tripawd zoomies all over the backyard. Then just like that, it was warm again. By March her swimming pool was set up again and she was splashing in it every chance she got. Looking back, I'm really thankful for all the extra warm days she was able to enjoy.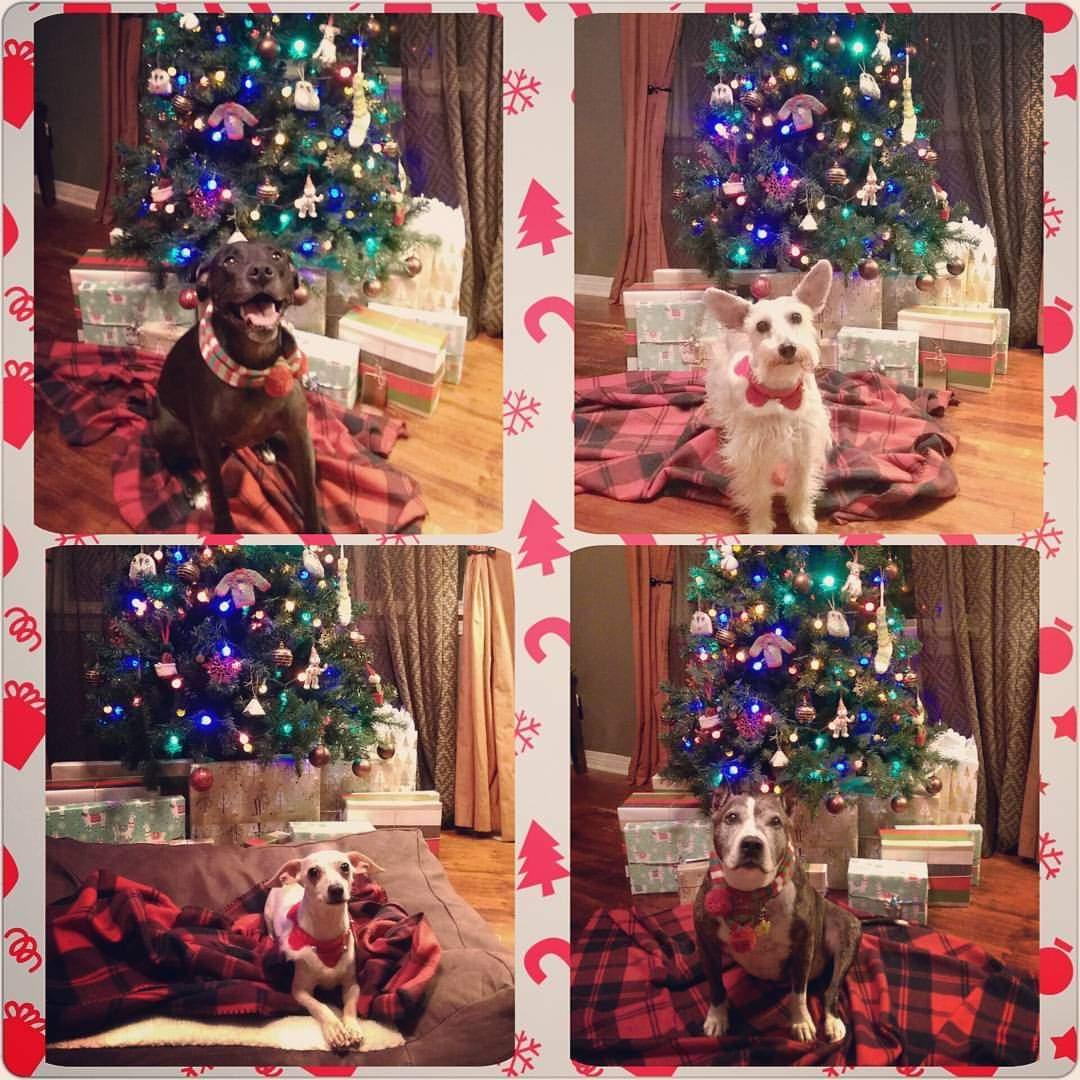 In early March she sprouted a new bump on top of her head. It was a little scary because I didn't know if it was some form of cancer returning or if it was just a coincidence. She had it removed almost immediately just to be safe. We didn't send it off because I was literally as broke as you can be by this point. But they examined it there in the office and it appeared to be just a run of the mill cyst so we felt fairly confident there was nothing to be worried about. She had a little Frankenstein scar on her head now to go with all the others.
After this we had a very uneventful summer… which meant it was a great summer. We spent a lot of time outside enjoying the sunshine and the swimming pool. We had a lot of great foster dogs during that summer too. Izzi didn't like sharing her pool with them so I had to make sure she didn't get too sassy about it. I took a whole week off work in August to hang out with Izzi and the other dogs at home. And then Izzi got to celebrate her 10th birthday in September. A year prior, I was told she may only live for 3-6 more months so this was an enormous and exciting milestone. We made it 365 days.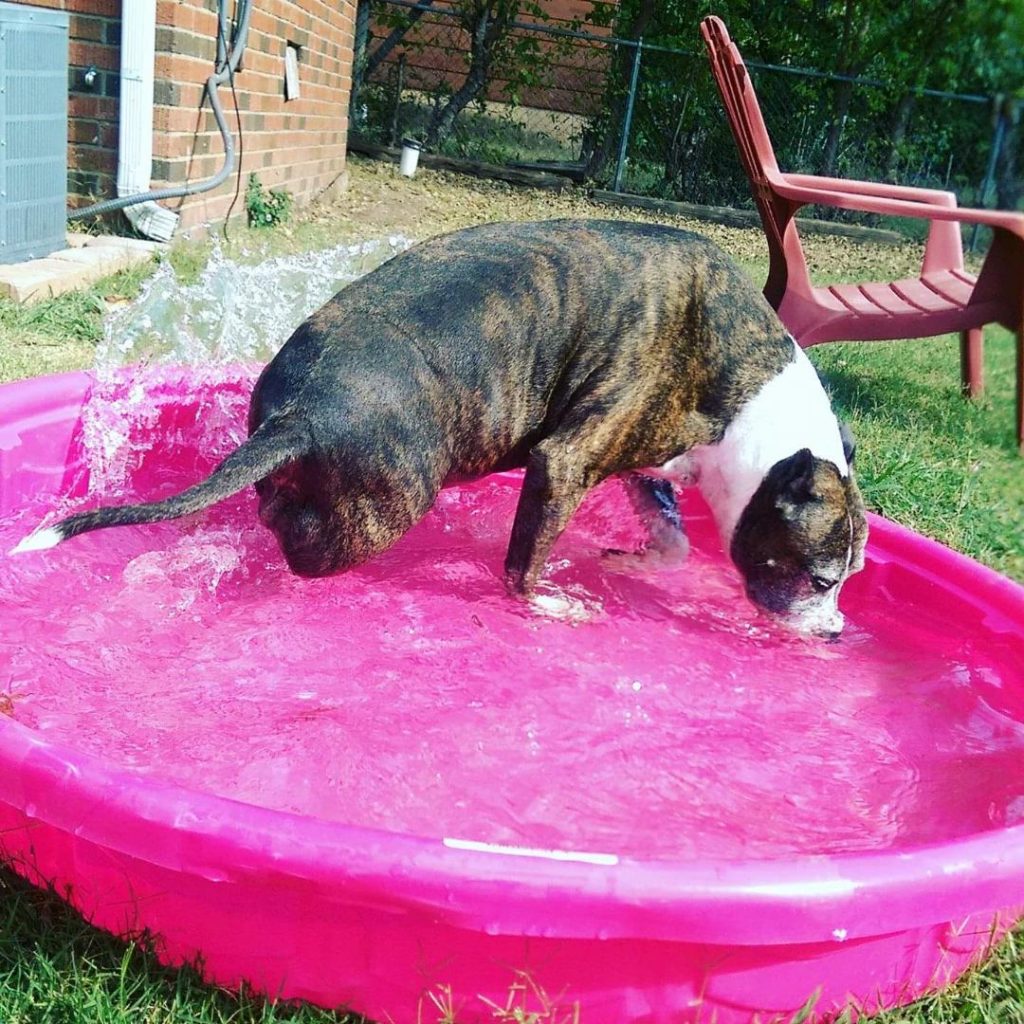 Trying out the new wheels: https://www.instagram.com/p/BNmzRB7B5-c/?utm_source=ig_web_copy_link
A pupaccino just for fun: https://www.instagram.com/p/BN7GJCWDKG3/?utm_source=ig_web_copy_link
Going for a walk: https://www.instagram.com/p/BOGCk-ihfO2/?utm_source=ig_web_copy_link
Christmas: https://www.instagram.com/p/BOWTZUHDoVU/?utm_source=ig_web_copy_link
Opening a gift: https://www.instagram.com/p/BOlcqyEDWPS/?utm_source=ig_web_copy_link
Snow Day: https://www.instagram.com/p/BO97XL5hNBS/?utm_source=ig_web_copy_link
Frankenstein: https://www.instagram.com/p/BRoQpuHB1RZ/?utm_source=ig_web_copy_link
More swimming: https://www.instagram.com/p/BSHB5MNhUET/?utm_source=ig_web_copy_link
Running around like a champ: https://www.instagram.com/p/BWIk4VNFhST/?utm_source=ig_web_copy_link
Hanging out with some friends: https://www.instagram.com/p/BYCM7_clXTq/?utm_source=ig_web_copy_link
test Filed under
Uncategorized
|
Comments (2)